It's no surprise that these styles are currently popular. Hairstyles for long black hair comprise
Braids
Curls
mermaid waves &
A bombshell blowout
to name a few. Even better, any face shape can be complemented by a different hairdo.
Long hair softens sharp features, balances proportions, and makes you look younger, healthier, and more feminine. Check out these hairstyles for long dark hair for inspiration if you're growing your locks out or just want a change.
Average Hair length Of Women
In North American research. According to statistics, 24 percent of women have long hair, 43 percent have medium-length hair, and 33 percent have short hair.
However, it differs greatly from one culture to the next. Long hair is preferred by most women in most cultures over shorter and medium-length hair. So I am here to provide you with the list of the 8 most famous hairstyles for long dark hair.
8 Most Famous Hairstyles for Long Dark Hair
Natural Long Hair
Balayage
Long Hair and Bangs
Long Straight Hairstyle
Long Braids
Long Wavy
Long Updo
Layers
If you want a mid-year hair makeover without giving up your long locks, try a layered style. It could be used to offer fine and thick hair greater depth and dimension, as well as to break up the dense 'hair helmet' appearance. Your stylist will cut your hair into various lengths if you prefer layers.
The layers' exact position and length will be changed to suit your face shape. Long, airy layers, for contrast, suit squared and circular faces best, whereas soft, delicate layers suit oval faces best. A long layered hairstyle is a terrific method to add movement, structure, and bounce to your mane without making major alterations.
Natural Long Hair
When you wear your hair long, it looks amazing. Moisture and detangling should be done on a regular basis, and you shouldn't overwash your mane. The goal is to create moisturized, defined curls that are frizz-free and brittle.
One way to protect your hair's fragile ends is to braid it in a protective style every now and then. Because the curls are still forming, you won't lose any length when you remove the protective style. Natural hair grows in curls and coils rather than straight lines, so it takes longer to grow out. You may never want to go back to being short once you've gone long!
Balayage
Long hair is enhanced by big, bouncy curls. Large, spherical curls, even if they can appear too voluminous when your hair is short, appear balanced with long hair. To create volume without looking overdone, curl only the ends of your hair.
Long Hair and Bangs
When worn with bangs, long hair looks wonderful. The contrast preserves the rest of your mane while providing the face-framing features of short hair. Spherical aberration in your hair is a simple way to freshen up your look, and there are many different styles to select from to compliment your characteristics.
With thick, wavy hair, a delicate, center-parted fringe, commonly known as 'curtain bangs,' blends wonderfully. Wispy or 'piece-y' bangs are perfect for fine hair. If you're feeling daring, you can go for a blunt or choppy fringe.
Long Straight Hairstyle
Pin-straight, long hair is impossible to beat. When you have long hair, however, straightening every strand without skipping any and ending up with an uneven finish can be tough. To control flyaways and create a pin-straight finish more effortlessly, begin your straightening procedure with a smoothing heat-protectant.
Long Braids
Every occasion, as well as every hair length and kind, has a braid. Longer hair lends itself to braids since you have more room to work with and maybe more creative. One of the most popular hairstyles is a fluffy ponytail plait, which looks stylish while being simple to put together.
Start a French braid at the back of your head instead of the front or side for a laid-back summer attitude. The braid should not appear overly tidy or polished. If braiding isn't your thing, the 'pull-through' technique can help you get the appearance. Make parallel ponytails and loop them through each other to achieve a braided effect.
Long Wavy
A long deep-shade dark hairstyle with thick soft waves is totally Audrey Hepburn when worn with your favorite little black dress and cat-eye sunglasses.
Long Updo
The updo hairstyle for long hair is both simple and attractive, making it ideal for everyday wear or dressing up for date night. It's great for gentler hair textures, so if your locks are dry and frizzy, you should use a serum.
To achieve this look, the hair on top has some traction; either wash it the next day or use a texturizing spray. Because this enormous bun demands a good base to sit on, you should also put a volumizing product in your roots.
Make a knot with the rest of your hair, leaving some pieces out to frame your face, and secure with a clear hair tie and bobby pins on the bottom. This style, like other updos, looks best when paired with a statement earring and lipstick to balance out the top-heavy volume.
Bottom Line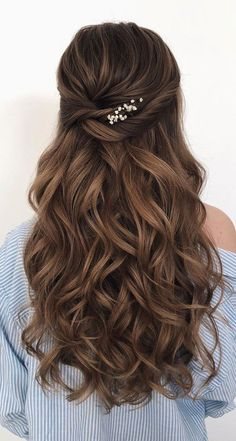 I attempted to describe the best long dark hairstyles. You will surely benefit from these. You can choose one to make your social gatherings memorable.