Uddup Silk is the perfect destination for all your saree needs. With a wide range of traditional and contemporary sarees, we will surely find the perfect one to match your style. Whether you're looking for a classic silk saree or a trendy chiffon one, Uddup Silk has it all.
Their collection features the finest sarees from India, each handpicked to ensure quality and durability. From rich, traditional designs to modern, minimalist styles, there is something for everyone at Uddup Silk. With their commitment to providing the best shopping experience, you can confidently purchase.
Not only are the sarees beautiful, but they are also affordable, making it easy to add multiple pieces to your collection. Whether shopping for yourself or for a special occasion, Uddup Silk has everything you need to look your best. Visit their website today and start shopping!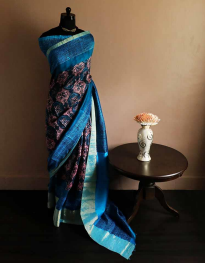 Experience High-Quality Printing Services with Uddup Silks – Your One-Stop Shop for Customized Fabric Printing Needs
If you're looking for a reliable printing service provider that offers a variety of printing techniques, Uddup Silks is the perfect choice for you. We can cater to all your printing needs with a wide range of printing services, including Discharge printing, digital printing, Handblock printing, screen, and pigment printing.
Our Discharge printing technique uses a special bleach solution to remove the dye from the fabric, resulting in a soft, natural-looking print. With our digital printing service, we can create high-quality prints with vibrant colours and intricate designs. Our Handblock printing technique involves hand-carved blocks and manual printing methods, resulting in unique and personalised prints.
For traditional screen printing, we use a stencil to create designs that are transferred onto the fabric using ink. And with our pigment printing service, we can produce prints resistant to fading and wear.
Bringing Your Vision to Life with Uddup's Personalized Fabric Dyeing Services
Uddup Silks offers a comprehensive fabric dyeing service for individuals, fashion designers, textile manufacturers, and anyone looking to add vibrancy to their fabrics. With a focus on quality and attention to detail, we take pride in creating unique and long-lasting colours on various fabrics, including silk, cotton, linen, and more.
Our team of skilled artisans has extensive experience in the industry, using only the best dyeing techniques and materials to ensure the highest quality results. We offer various colours; our experts can create custom colours to match your requirements.
At Uddup Silks, we understand that time is of the essence when it comes to fabric dyeing services. That's why we offer fast turnaround times without compromising the quality of our work. We take great care to ensure that every piece of fabric we dye meets the highest quality and durability standards.
Our fabric dyeing services are ideal for creating bespoke clothing, home decor items, or even unique accessories. Whether you need a small batch of fabric or a large order, we can accommodate your needs with our reliable and affordable fabric dyeing services.
Add a Personalized Touch to Your Fabrics with Uddup Silks' High-Quality Hand Painting Services
Uddup Silks is dedicated to providing high-quality and personalised hand painting services that are perfect for those looking to add a unique touch to their fabrics. Our skilled artisans use techniques, including Kalamkari and floral paintings, to create stunning, intricate designs tailored to your preferences and style.
We use only the finest materials and high-quality paints specifically designed for the fabric to ensure your designs remain vibrant and beautiful for years. Whether you want to add a unique touch to your saree, clothing, home decor, or accessories, our hand-painting services are the perfect solution.
At Uddup Silks, we take pride in our exceptional customer service and fast turnaround times. Our hand painting services are perfect for individuals, fashion designers, and anyone looking for a personalised touch on their fabrics. With our reliable and affordable services, you can trust Uddup Silks to provide exceptional hand-painting services that will impress you.
Find Your Perfect Fabric with Uddup Silks – Your Trusted Supplier of High-Quality Fabrics for Fashion, Home Decor, and Manufacturing
Uddup Silks is a trusted and reliable supplier of high-quality fabrics for individuals, designers, and textile manufacturers. We offer a wide range of fabrics to choose from, including silk, Organza, Mulcotton, Cotton, Raw Silk, Mulberry Silk, Muslin, Tussar, Crepe, Chiffon, Georgette, Velvet, Cotton Lenin, Net, Satin, Cotton Satin, Modal and Modal Satin, all of which are carefully selected for their quality, durability, and beauty.
At Uddup Silks, we understand the importance of having access to a reliable and consistent source of fabrics for your projects. That's why we take great care to ensure that our fabrics meet the highest quality standards and are available at competitive prices.
Our fabric-supplying service is ideal for those looking for a reliable source of high-quality fabrics for their fashion designs, home decor projects, or textile manufacturing needs. With our fast and reliable delivery service, you can trust that your fabrics will be delivered to you on time and in perfect condition.