Every year on February 14th, Valentine's Day is a celebration of romantic love, friendship, and respect. People send messages of love and affection to their spouses, family, and friends on February 14th every year.
You don't have to spend Valentine's Day with your significant other. Spending time with my family, friends, and partner on Valentine's Day is one of my fondest Valentine's Day memories. In my opinion, spending February 14th with a love interest always loses out to dressing up, eating beautiful cuisine, sipping delightful wine, and having interesting discussions with my female friends.
Valentine's Outfit Ideas
What's the best way to dress up on Valentine's Day? When we consider it, we have a lot of questions: what should we wear, will it look well on us, what color clothes will look nice, should we wear jewelry, how should we wear shoes or heels, and so on.
In terms of clothes, the New Fashion Era has some suggestions for Valentine's Day ensembles. If you want to seem cute, light-colored clothing is ideal. Wear dark colored clothing if you wish to appear royal and gorgeous. However, I have recommended a red royal color dress because it is a beautiful hue for Valentine's Day and anyone can wear it because red helps people appear good, according to the study, it gives status, royal glory, and Sends signals of power and dominance.
Valentine's Day office look Outfit for Valentine's
I converted my dress into a skirt for a Valentine's Day office appearance by putting a cropped sweater on top. I chose a hot pink sweater, but you could use any color that matches your dress. The key is to choose a sweater with a thicker fabric than your dress. It also helps to keep it in place if you belt it. For an even more professional look, add a fitted blazer.
Wool Sweater Dress and Long Coat Outfit for Valentine's
Wool sweater dress and long coat, neutral fall outfit. If you want to look cute and attractive, you should wear this dress on your valentines day. You do light makeup with this dress it gives you a perfect look for your valentine's day.
Flawless Valentine's Day Dinner Outfit
Choose one or two festive-yet-chic accessories and keep the rest of your ensemble basic and tasteful. Despite what Hallmark would have you believe, red and pink aren't the only colors or prints to wear on Valentine's Day, and hearts aren't the only print. Please. It's not that we don't appreciate the romanticism of the occasion; it's simply that dressing for it doesn't have to be so one-dimensional. In fact, we think the aforementioned sartorial clichés should be abolished entirely.
Office Look with Coat Valentine's Day
How do you want to look in the office on Valentine's day? If you want to be ready for the office, then you should wear this dress on Valentine's Day. This will give an attractive, professional look. With this, you can also wear light makeup and a coat. You can also carry a light colored hand purse and light colored accessories to make the office look more attractive.
Jeans With High Neck Top Outfit for Valentine's
If you want to look comfortable on Valentine's Day then you should wear this dress. It is comfortable and gives you an adorable look in itself. If you do light makeup with this, then it will give you a cute look. With this, you can keep your hair as light curl and straight as you want.
Girly Valentine's Day Look Outfit for Valentine's
Nothing says quite like a pink ruffled mini dress with puff sleeves. This feminine dress features wrap styling and a sweetheart neckline along with ruffle trim on the sleeves to add another girly touch.
V-neck URBANIC One Piece Outfit for Valentine's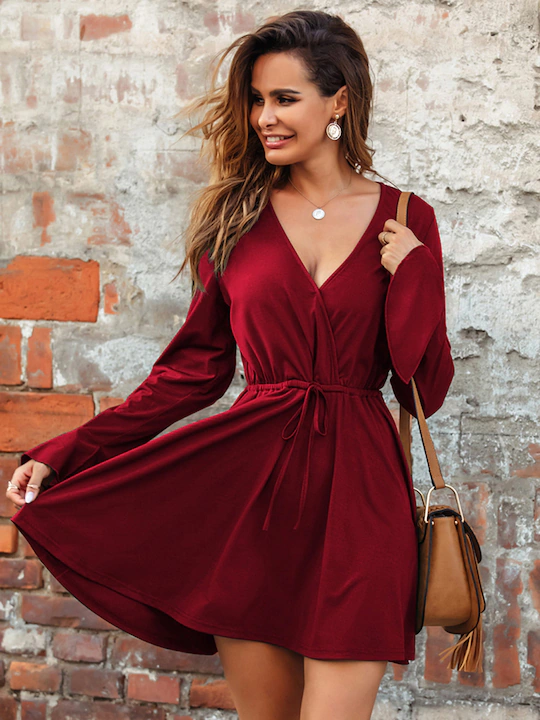 V-Neck Organic One Piece This is the perfect outfit for your Valentine's Day and Valentine's Night dinner. You go for light smokey makeup with this outfit. With this, you can keep your hair as light curl and straight as you want.
Off Shoulder Top with jeans Outfit for Valentine's
If you need to put together a quick outfit for Valentine's Day, pick up a burgundy off-the-shoulder top, jeans, and booties for an instantly cute look that works for a variety of occasions. This easy dress looks festive with the burgundy-red hue of the top and off-the-shoulder design, plus cute shoes that add a pop of print.
Fancy Gown for Valentine's Day
With a slim-fitting bodice that leads to a curve-hugging A-line silhouette and a high slit for a sexy yet glam appeal, you'll be the belle of the ball in this red satin gown. The satin fabric has a hint of stretch to it, adding to the dress's comfort.
Off Shoulder One Piece
Sarin Mathews Dress Off Shoulder velvet red color one peace. It gives you a cute and hot look for your valentine's day. You can carry with it a black hand purse its gives a good touch up with your dresses. You do medium make-up with it and wear a neckless with white little earning.
Women Two Piece Dress Pink Dress Outfit for Valentine
Try on the On Your Behalf Light Pink Two-Piece Dress when you need to look your best. A textured weave decorates the sleeveless crop top (with a rounded neckline) and the midi-length skirt of this two-piece dress. The skirt has front and back pleats, as well as side seam pockets beneath the fitted waistline. On both the top and the skirt, there is a hidden back zipper.
Korean Outfit for Valentine
Here are some Korean-inspired outfit ideas to try, whether you're planning a simple hangout with bae or a passionate date on Valentine's Day.
Ourselves, to discover ourselves, and to bond through the things we enjoy. It's where your common interests bring you together with your peers.